"What kind of regular medical care do farm animals need?"
Good food comes from healthy animals, so farmers live by that old adage about "an ounce of prevention." That's why they have their animals vaccinated for the most common diseases in their region. Vaccinations are a simple way to ensure animal health and protect the farmer's investment, both of which help keep food affordable.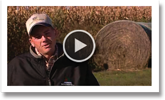 Caring for livestock is important to Iowa farmer, Tanner Rowe. That's why he keeps in close contact with a nutritionist and veterinarian to ensure that his cattle are healthy and happy. Meet Tanner and learn more.
"Could the antibiotics that farmers are giving their animals be causing my family to become more antibiotic resistant?"
According to Dr. Scott Hurd, Iowa State University Associate Professor and Former Deputy Undersecretary Food Safety, USDA, strategic use of antibiotics in animal agriculture prevents disease and produces safer food.
The concern over the development of antibiotic resistance in humans is the reason why veterinarians and farmers have spent more than 20 years continually improving their selective use of antibiotics to treat sick animals. The results of these improvements are evident in FDA monitoring studies that show that resistance in target pathogens is stable to declining.
Since antibiotics have been used in humans for more than 60 years and in livestock for about 50 years, if there was going to be an epidemic of resistance related to antibiotic use in agriculture it would have occurred by now. The fact that it has not means that antibiotic use in animals is not a major risk to human health.
"Why do some farmers keep their animals confined? Isn't that hard on the animals and the environment?"
Responsible farmers care deeply about their animals and understand that healthy, comfortable animals are important to the success of their farming business. In other words, proper care is the right thing to do, and in the end produces a high-quality product for the consumer, which is why you'll see farmers take great strides in the care of their animals in every aspect of any viable livestock operation.
Some farmers use enclosed barns so they can control the temperature to help ensure their animals are warm in the winter and cool in the summer. Pigs, for example, don't sweat and can sunburn if left out in the open too long. Farmers who raise pigs in enclosed barns will often let their pigs outside, but then bring them in when the weather elements turn harsh.
The quality of feed can also be controlled with animals in an enclosed barn so no animal goes hungry or starves if they are the runt of the litter. It also ensures that all animals are fed the proper nutrients necessary for healthy growth. Enclosed barns also protect animals from predators and pests such as birds and raccoons that spread disease, cutting down on the use of antibiotics to treat illness and disease.
By moving animals inside, farmers can also help the environment by having more control of manure, which can be collected and used for things such as crop fertilization. Farmers who raise animals outside have more manure go to waste because it's harder to control and can lead to run-off and environmental contamination.
In the end, it's a win-win for the animals and the farmers—and ultimately the consumer, who can be sure that the meat on their plate came from a happy, healthy, well-treated animal.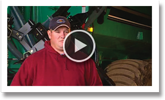 Joel Huber, a hog farmer from Albia, Iowa, takes great strides to care for his pigs not only because it's important to him but it's important to consumers as well. Meet Joel and learn more.
"Extreme weather is a challenge for all of us. How do farmers deal with extreme weather conditions when caring for their livestock?"
We all know what a harsh winter, wet spring and humid summer is like—but no one knows it better than a farmer who raises livestock.
Out in the snow, wind and sleet when most of us are inside, a farmer is outside—exposed to the elements in order to check on livestock in their care. During an Iowa blizzard, for example, animals can die if the generator goes out in a hog barn; cattle outside can become disoriented, panic and wander into ravines and freeze while exposed to the full wrath of Mother Nature. Farmers go to extraordinary measures—often walking miles in snow drift fields to check on cattle in their pasture—making sure they are safe in man-made windbreak shelters. Other farmers have even taken the generators out of their homes and have put them in their barns to ensure their livestock stay warm.
Springtime means calving season, but it can also mean heavy rains that cause farm pastures to become extremely muddy. Cattle farmers are vigilant day and night, checking on newborns and watching their health in harsh weather conditions, often times bringing them inside to warm them up and turning barns into maternity wards.
Raising livestock is extremely hard work. But for responsible farmers, it's also very rewarding.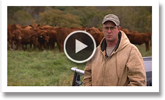 Raising livestock in sometimes less than ideal conditions is all in a day's work for Iowa farmer, Bryan Reed. Meet Bryan and learn about how he cares for his cattle.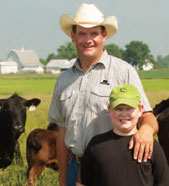 Steve Swenka
Cattle Farmer
Johnson County, Iowa
According to Steve, there's not that much difference between parenting and farming. Regular medical care, for instance, is a must for kids and calves alike. "Annual vaccinations, doctor and vet visits—it's all part of the process," says Steve. "In fact, we have as many medical records on our calves as we do on our sons."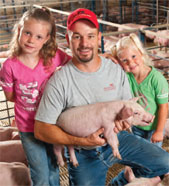 Sam McKnight
Hog Farmer
Union County, Iowa
When summer hits Iowa, everyone's thankful for air conditioning. Sam McKnight says his pigs probably feel the same way. "By keeping my livestock indoors, I can keep them calm, cool and comfortable," he says. "This way I can monitor their living conditions closely and make sure they receive the care they need."